Latest Threads
Popular Threads this week
Naruto Manga Volume #23

Part I: Naruto Series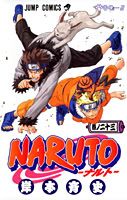 Title:
Predicament, Kukyō...!! (苦境...!!)
In this volume it is Shikamaru's and Kiba's turn to give their own battles with the sound ninjas. However, a new villain comes into play, Kimimaro, who easily grabs and moves away with the container. At Orochimaru-s compound Kabuto and Orochimaru discuss Kimimaro-s obedience to Orochimaru. They discuss how he is the heir to a powerful clan and that his illness hindered their destruction of Konoha. Kimimaro emerges into a field with the container, as he stops Naruto jumps in from the tree line to stop his flight. Naruto demands to know why Orochimaru wants Sasuke, and he replies that Orochimaru wants to gain knowledge of all the jutsu in the world, and he needs a vessel to do so. As Kiba and Shikamaru both fight their opponents a surprised Naruto faces Kimimaro's powerful bloodline limit!
-
Naruto Manga #200
-
Naruto Manga #201
-
Naruto Manga #202
-
Naruto Manga #203
-
Naruto Manga #204
-
Naruto Manga #205
-
Naruto Manga #206
-
Naruto Manga #207
-
Naruto Manga #208
Manga Volume Download:
Click here to download
76.51k
New!
RSS