Latest Threads
Popular Threads this week
Naruto Manga Volume #24

Part I: Naruto Series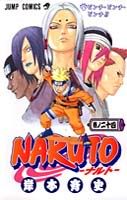 Title:
Unorthodox, Pinchi pinchi pinchi!! (ピンチ ピンチ ピンチ!!)
Shikamaru continues to struggle to successfully complete the Kage Shibari and choke Tayuya, but the Sound Ninja refuses to give in. Back in the field, Sasuke's canister continues to steam and the canister finally bursts! Rising from the debris is a longhaired Sasuke. As Naruto grows angry Kimimaro quickly moves to strike Naruto in his unprotected back. Before his bone sword can connect he is kicked away by a sudden attack! Standing before Naruto to help is none other than Leaf-s azure beast Rock Lee! Reinforcements on the Scene come on the scene! All around the area, the Leaf Genin are struggling Coming to the rescue of the Leaf Genin are the siblings of the Sand! Gaara, Kankurou and Temari have arrived!
-
Naruto Manga #209
-
Naruto Manga #210
-
Naruto Manga #211
-
Naruto Manga #212
-
Naruto Manga #213
-
Naruto Manga #214
-
Naruto Manga #215
-
Naruto Manga #216
-
Naruto Manga #217
Manga Volume Download:
Click here to download
76.71k
New!
RSS