Latest Threads
Popular Threads this week
Naruto Manga Volume #27

Part I: Naruto Series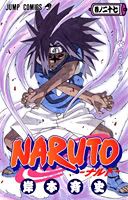 Title:
Departure, Tabidachi no hi!! (旅立ちの日!!)
Back in Konoha, Sakura decides to get training from Tsunade to help Naruto bring Sasuke back next time and Kakashi at the fallen ninja memorial chastises himself for not being able to have seen Sasuke-s leaving and helped him better. As we travel back to Naruto-s hospital room, Jiraiya appears on a toad outside his window. Jiraiya tells Naruto Akatsuki is still after him but won-t appear again for three years. He then tells Naruto that he is now his apprentice and to give up trying to get Sasuke to return. Naruto stubbornly refuses and agrees to train under Jiraiya for the next three years. At Orochimaru-s compound Sasuke has finally arrived and demands Orochimaru train him. This ends the present plotline of Naruto Part One and a Gaiden of Kakashi's story begins.
-
Naruto Manga #236
-
Naruto Manga #237
-
Naruto Manga #238
-
Naruto Manga #239
-
Naruto Manga #240
-
Naruto Manga #241
-
Naruto Manga #242
-
Naruto Manga #243
-
Naruto Manga #244
Manga Volume Download:
Click here to download
76.7k
New!
RSS