Latest Threads
Popular Threads
Forums News
Naruto Manga Volume #2

Part I: Naruto Series


Volume #2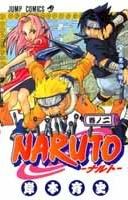 Title:
The Worst Client, Saiaku no irainin ( 最悪の依頼人 )
Team spirit or following orders? Will Team 7 succeed or fail as all others did in the past? Who is the water demon, Zabuza of the Mist? What is the connection between Gato, a greedy businessman, Tazuna, a bridge expert, Zabuza, a water demon of the mist and a masked ninja who hunts traitors?
A great battle starts! Don't miss the first encounter between Zabuza and Copy Ninja Sharingan Kakashi!
-
Naruto Manga #8
-
Naruto Manga #9
-
Naruto Manga #10
-
Naruto Manga #11
-
Naruto Manga #12
-
Naruto Manga #13
-
Naruto Manga #14
-
Naruto Manga #15
-
Naruto Manga #16
-
Naruto Manga #17
Manga Volume Download:
Click here to download